Oil level gauge and relay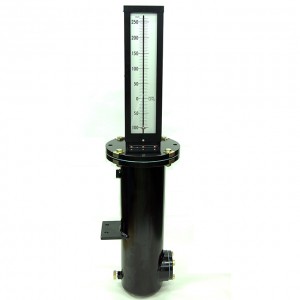 This product is designed as the micro switch makes or brakes by the up-and-down of a float moving according to oil level.
It is used for oil level control of cooling device for the bearing of the waterwheel generator shaft.
It detects abnormality of the oil level and makes a warning signal or a stop signal.
TYPE
FS-10
FS-13G-1・FS-14G-1
Scale range(mm)
-100~ +260
Size of flange
JIS ø90,4-M12
Contact
Upper alarm
Lower alarm
Upper alarm
Starting signal
Lower alarm
Switch circuit
1c
1c
1c
1c
1c
Adjusting range(mm)
+30~+260
-20~-100
+50~+250
0~-100
-30~-100
Setting Level (mm)
+260
-100
+250
-30
-100
Accuracy(mm)
±5
Electric specification
Resistance Load※
【for general】AC480V 10A DC125V 0.5A 【for DC】DC125V 10A
Withstand voltage
AC2000V for 1 min.
Insulation resistance
500V megger,  100MΩ above
Conduit outlets
G1/2
G1
Terminal screw size
M 4 (P=0.7)
M 5 (P=0.8)
Weight
Approx. 20kg
13G-1:50kg above  / 14G-1:approx.35kg
※The product can be also manufactured by inductive load.
The other specifications are also available. Please contact us for further information.