Pressure Gauge (Ordinary Type)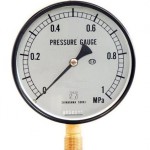 Pressure gauge of standard type for general use
This pressure gauge is designed and manufactured in conformity with JIS B 7505-1 :2007 Bourdon Tube Pressure Gauge Standard. Various types of pressure gauge can be manufactured according to the installation place, fluid type, etc.
Size
60
75
100
150
200
External Shape
A (Rimless type), B (Circular rim type), D (Embedded type)
Classification according to use
Ordinary type, Ordinary type for steam(M), Heatproof type(H),

Vibration-proof type(V), Heatproof/vibration-proof type(HV)

Accuracy Class
CL1.6
CL1.6 or CL1.0
Connector Screw
G・R1/4
G・R1/4 G・R3/8
G・R3/8   G・R1/2
Pressure range
Pressure gauge
<minimum>0~0.05MPa   ~   <maximum>0~70MPa
Vacuum gauge
-0.1~0MPa
Compound gauge
<minimum>-0.1~0.1MPa  ~  <maximum>-0.1~3.5MPa
Materials
Stock
C3771BD, C3604BD, SUS304, SUS316, or SCS14
Bourdon Tube
C6872T or SUS316TP
Shape of Connection
Square(T)
○
○
○
Parallel Faced(U)
○
○
○
○
○
Hexagonal(S)
○
○
○
Additional Specification
degreasing, gas leakage test, throttle screw, piercing for setting, fitting, blowout hole, special coloring on scale plate, indicated document,  etc.
Example for order